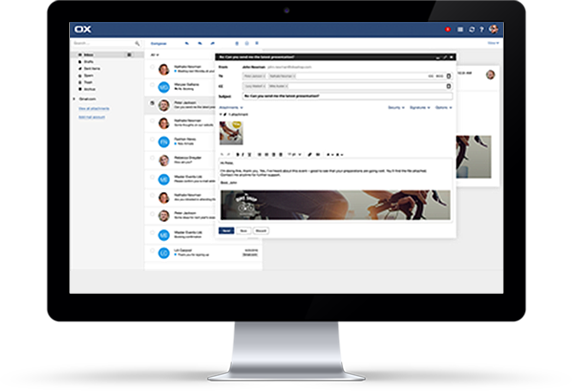 OX App Suite es una potente aplicación de correo electrónico y productividad creada para empresas de cualquier tamaño (y presupuesto).
Espere más del correo electrónico
Correo electrónico profesional@sudominio.com
Seguro y confiable; con 99,9% de tiempo de actividad
Use Webmail, Mobile or Desktop Apps
Huge 10GB & 50GB mailboxes
Diga adiós al Spam
Using AI and predictive email defense software, OX App Suite fights to keep your inbox safe from spam, viruses, malware and phishing attacks.
Trabaje en cualquier lugar
OX App Suite syncs across all your devices. And Mobile and Desktop access are no problem as OX App Suite works seamlessly across all native clients.
Features
Cloud File Storage
Store and share your important documents safely in the cloud. And with (up to) 50 GBs, you'll have plenty of room for years to come.
Calendaring & Contacts
Communicate like an enterprise with shared calendaring, scheduling wizard, iCal support and Global Address List!
Lots of Email Features
Your favorite email features are all here including Forwarders, Aliases, Auto-Responders, Filters, Signatures, Notifications and more!
Add Productivity Apps!
Create, edit and share Microsoft Office docs like Word, Excel and PowerPoint with App Suite's powerful online Apps.
Bring your Apps
Easily add your favorite email services and/or apps into App Suite; like Gmail, Dropbox, Zoom (coming soon) and more!
Privacy Matters
App Suite, nor ourselves, will ever read, scan or share any of your personal or email information with any 3rd parties. Ever.
Pricing & Plans
OX App Suite

P163.22/6m Per user

OX App Suite + Productivity

P261.00/6m Per user

99.9% Uptime SLA
Premium Anti-Virus & Anti-Spam
email@your-domain.com
Mailboxes Size
10GB
25GB
Full-Featured Webmail
Mobile & Desktop Access (IMAP)
Shared Calendars, Contacts, Tasks
CardDAV & CalDAV
Integrated Portal Page
Self-Service Migration Tool
Cloud File Storage
-
25GB
Online Office Suite
-
Create / Edit Word Docs
-
Create / Edit Spreadsheets
-
Create / Edit PowerPoint
-
Frequently Asked Questions